WHAT WE TEACH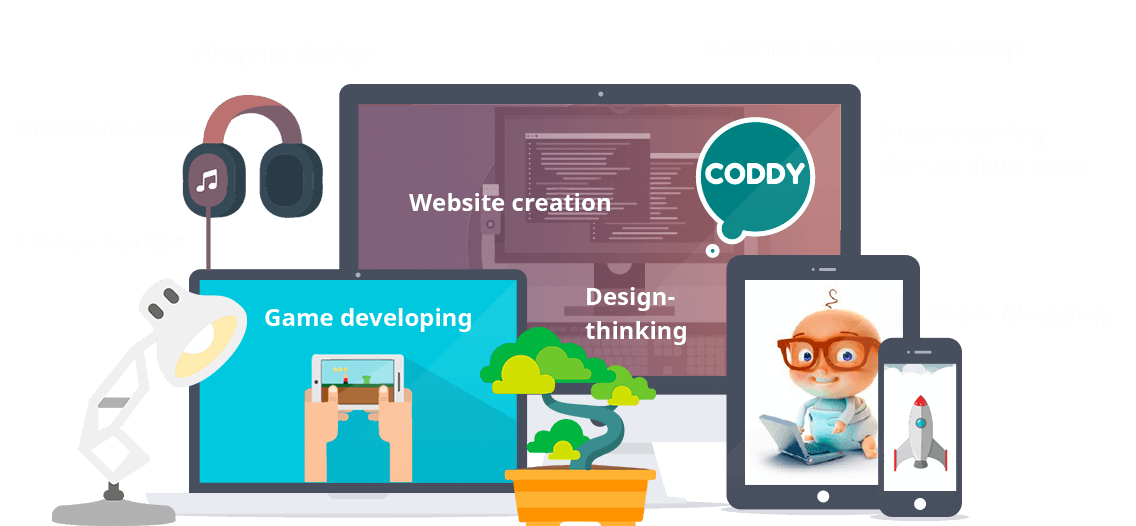 Watch other clips
CODDY using: < and >
The CODDY® Team strives to provide children with such extent of coding knowledge and project management skills that they, just being 15 years of age, will be able to:

enroll into leading Russian or International University
start their own business
get a job with a Russian or an International IT-corporation.
Courses the school provides not only develop of technical skills: coding, creation of mobile applications, but also the soft skills - design-thinking, startup course, etc.
Courses are held in offices of IT-corporations, where students immerse themselves in the high-tech atmosphere.
We constantly keep in touch with the parents, so that we can work together towards our common goal of assisting the child in self-realisation and being successful.
We strive to ensure that CODDY® becomes the best place for children to dive into the world of coding!

CHOOSE COURSE
Let's create the future together!
No results for selected parameters!
Create the foundation for your child's future success
GIFT CERTIFICATES FOR KIDS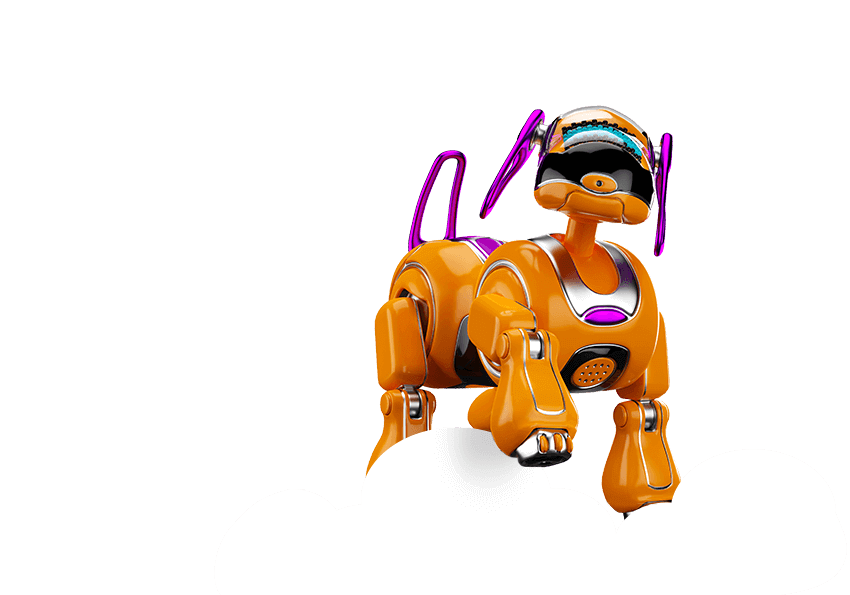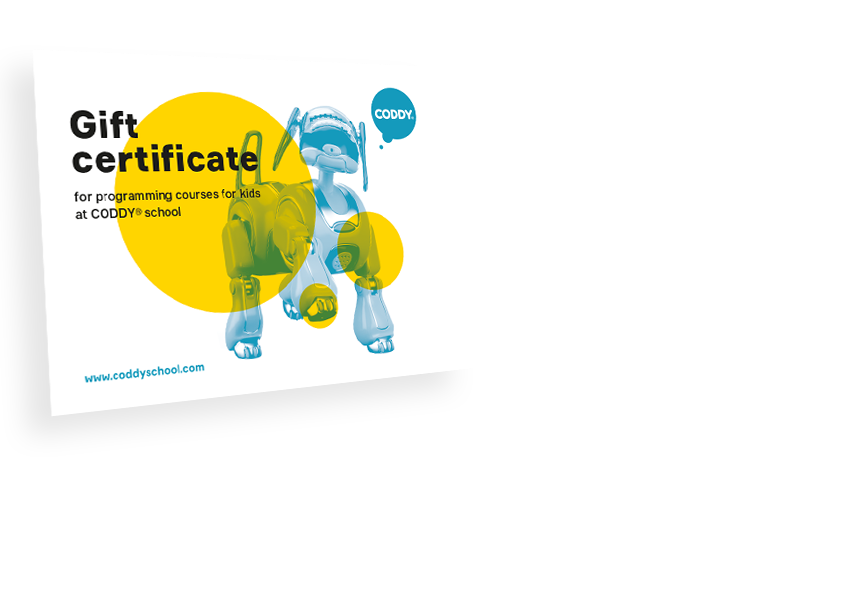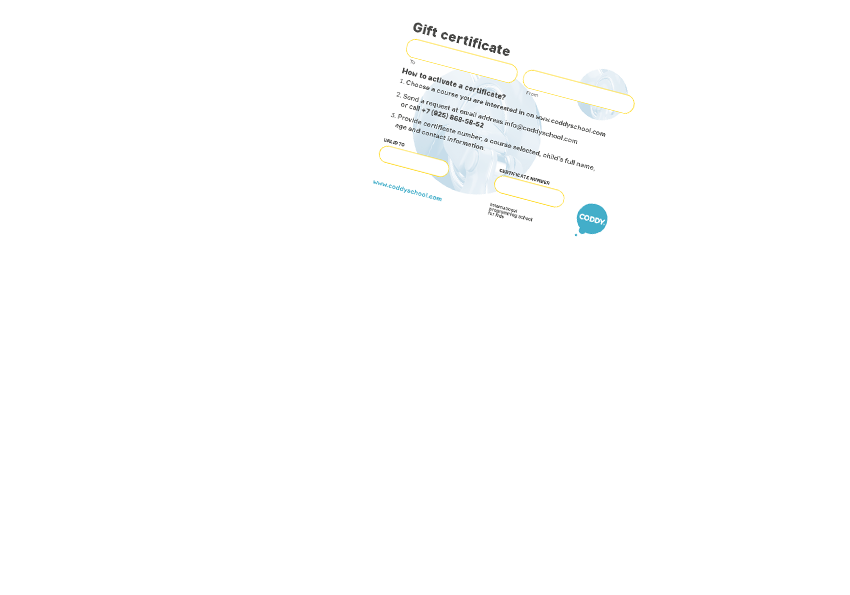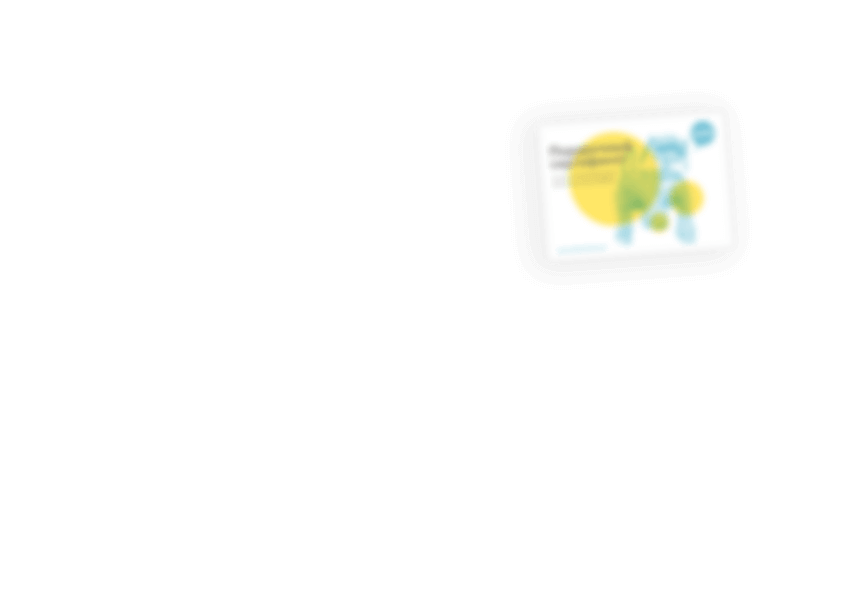 Are you looking for the gifts ideas for your child?
Are you searching for the best original and unusual gifts for the kids?
International programming school for kids CODDY offers gift certificates for programming courses for kids aged 3 to 18 .
BUY A CERTIFICATE
MORE
FREQUENTLY ASKED QUESTIONS
What course should we choose if a child is 7-8 years old?
We recommend starting with the fundamentals of programming in Scratch, Kodu Game Lab or Roblox. You can see detailed descriptions of the courses and programs on our website. These are general recommendations. In practice, when choosing a course and drawing up a program, we apply an individual approach since everything depends on the knowledge base, experience and motivation of a child.
AT WHAT TIME DO THE LESSONS START?
Classes are held from 9 am to 19 pm. More information is available in the schedule. You can order a call back, and our team will answer your questions.
DO YOU OFFER SUMMER CLASSES?
Our school conducts classes all year round, and also we have summer copputer camps.
WHAT DAYS ARE THE LESSONS HELD?
We only offer classes on the weekends, on Saturdays and Sundays.
WHEN DOES THE RECRUITING FOR NEW GROUPS START?
We assemble groups every month. If you are interested in enrolling, contact us +7 (925) 868 58 52.
WHERE CAN I FIND THE SCHEDULE OF CLASSES?
The schedule is availabe here.
HOW DO I SIGN UP FOR A COURSE?
WHERE ARE THE COURSES HELD?
All courses are held in offices of our partners, various IT-corporations, full list of our partners can be found here.
HOW MUCH TIME DOES ONE LESSON TAKE?
The duration of one lesson is 2 hours, with the exception of the Harvard CS50 course, the Swift Stanford course and the development of chat-bots and games in Python with the support of Moscow State University.
DOES CODDY OFFER ONLINE COURSES?
You can learn individually via Skype. Contact us for more details.
HOW OLD DO I HAVE TO BE TO STUDY IN CODDY?
CODDY® welcomes students from 3 to 18 years of age.
HOW MUCH TO COURSES COST?
The cost for a course varies from 4000 ₽ to 8000 ₽ monthly depending on the region. Each course consists of four classes, three hour each, held once a week, on a Saturday or a Sunday.
Cost of all courses based in Moscow is 6000 ₽, the exception being the Harvard Course CS50, 8000 ₽. Cost of all courses in St.Petersburg and Samara is 4000 ₽.
WHAT IS THE DURATION OF A COURSE?
We use a modular system. This allows students to join the program at any time in the year. It also gives the possibility of picking the module a student really wants and has the most interest towards. Each module spans over one month and after a module is complete, one can dwell into the same direction even further (take a second level module, for example) or switch up the course entirely.
HOW DO I RESOLVE THE ISSUE OF MISSING A CLASS(ES)?
Such issues are resolved in individual manner. Please, contact the CODDY administration with your request at: info@coddyschool.com.
WHERE CAN I FIND CONTENTS OF EACH COURSE?
The list of courses as well as their description can be found here.
HOW MANY CHILDREN ONE GROUP CONSISTS OF?
As our priority is to give each student as much attention as we possibly can, we typically assign eight to ten children to a group.
Are there any trial classes?
Each lesson is an integral part of the course and lasts 2 hours, so there are no trial classes in CODDY. The optimal course is determined individually, taking into account the interests, abilities and experience of a child. But if you have doubts, our team will help you find the right course for your child.
What course should we choose if a child is 3-6 years old?
If a child is from 3 to 6 years old, then we recommend «Basics of programming for the smallest» or «Basics of programming in Tynker». This is a great opportunity for a child to learn the basics and get acquainted with technologies. If a child is 4 years old or more , we recommend to take a course «Design Thinking» — children learn how to create games, websites and mobile applications are, as well as learn how to develop new solutions for existing problems. You can look at the detailed descriptions and programs of the courses on our website.
FREQUENTLY ASKED QUESTIONS
The duration of one lesson is 2 hours, with the exception of the Harvard CS50 course, the Swift Stanford course and the development of chat-bots and games in Python with the support of Moscow State University.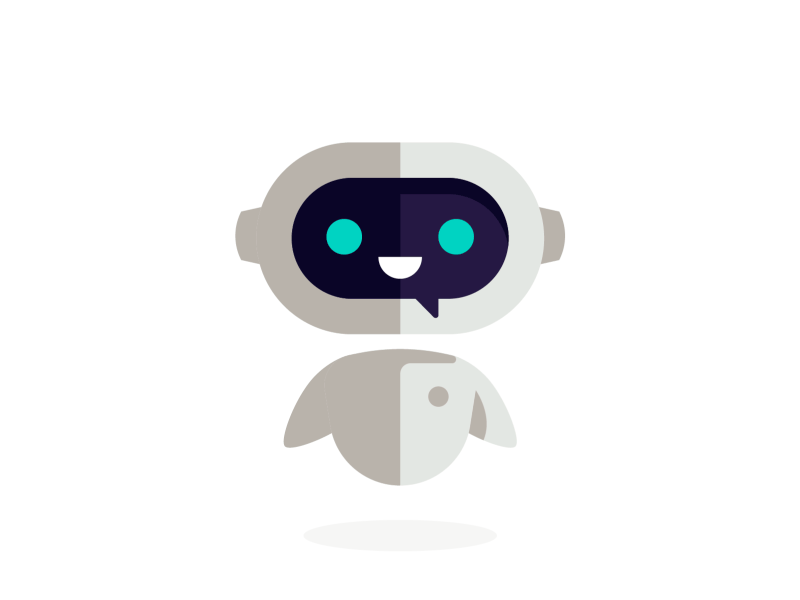 New York
MON-FRI: 10:00 – 19:00
SAT-SAN: 09:00 – 20:00
Krok (Moscow, m. Ploshchad Ilicha, Volochaevskaya St., 5, building 1)
FINAM (Moscow, m. Pushkinskaya, Nastasinsky per., 7, p.2)
Glowbyte (Moscow, m. Kurskaya, Nizhny Susalny Lane, 5, p. 19)
Coworking Grow Up (Moscow, Voikovskaya metro station, 6-A Cosmonaut Volkova St.)
Library №128 (Moscow, m. Tekstilshchiki, 8th Tekstilshchikov, 14)
Children's Center Da-Triz (m. Prospekt Vernadskogo, Prospekt Vernadskogo, d. 62a, p. 2)
GBOU School number 7 (m. Prospekt Vernadskogo, Krupskaya St., 17)
CODDY office (Moscow, m. Polyanka, Bolshaya Polyanka st., 2/10 p. 1)
Nextouch (Moscow, m. Tekstilshchiki, Volgogradsky pr., D. 42, building 5, Technopolis Moscow)
Gallery "Zagorje" (metro Tsaritsyno, Lebedyanskaya str., 24, building 2)
Electromuseum (MTC Rostokino, Rostokinskaya St., 1)
QIWI (m. Chertanovo North, d. 1a, building 1)
School number 1535 (Moscow, m. Sportivnaya, Usachev st., 50)
Tax College (Moscow, m. Polezhaevskaya, Ul. 3rd Khoroshevskaya, 2, p. 1)
KIDSTARTER (Moscow, Sokolniki metro station, 17/16 Shumkina St.)
Technopark Skolkovo (Moscow, the territory of the Innovation Center "Skolkovo", Bolshoi Boulevard, 42, building 1)
SAP (Moscow, Kosmodamianskaya nab., D. 52/7)
Children's Center CODDY (Moscow, m. Ozernaya / Ochakovo Station, Przhevalsky St., 2)
KC "Architects" (Moscow, m. Molodezhnaya, 23, Partizanskaya str.)
Okinoy Development Center (NCC, Nizhny Novgorod, 2nd Graivoronovsky passage, 42, building 1.)
ADANT (Moscow, m. Profsoyuznaya, Nakhimovsky Prospect, 32, office 1226)
Rambler Group (Moscow, m. Tulskaya, Varshavskoye sh., D. 9, p. 1)
Moscow-City (Moscow, Presnenskaya emb., 8, p. 1, Business Center "Capital City" 3rd floor)
Moscow, m. Leninsky Prospect, 38A
We are in social networks
Still have questions?
Contact us in any of the ways convenient to you or leave a question in the form below!
Благодарим вас, администратор свяжется с вами в ближайшее время.
Something went wrong, try to send the request later.
Please fill in all the fields correctly.
Please confirm that you are not a robot.
Please remove all unnecessary characters from the message.
Вы отправили много заявок. Попробуйте позже.